Will Vibert is a professional cook and writer, currently living in Milan. At the beginning of the year he moved to Italy from Canada to pursue his passion for cooking and eating and writing about it. Below is an account of several weeks spent in Tuscany, part of which was spent working alongside Manuel Pulcini. 
You can follow Will's adventures here: http://wvibert.com
And subscribe to his mailing list here: http://eepurl.com/gr-9wv
***
When it comes to popular tourist destinations, I typically find myself predisposed to dislike places that are overrun and overhyped. It's not that I am trying to go against the grain on purpose, it's just that I cannot help but be annoyed when I'm travelling in a foreign place and hear more American accents than local ones. Go ahead, call me a snob.
Tuscany, though, is different for me. The region is among the most celebrated and fantasised-about travel destinations in the entire world, yet I still cannot help but fall in love with it. Sure, Florence swarms with tourists and is too small of a city to offer a proper chance at escape, but once one makes it into that sun-drenched Tuscan countryside…well, it's practically impossible not to fall in love.
And so, despite my annoyingly snobbish predilection to denounce anything I deem "too" popular, Tuscany has stolen my heart. In fact, I have been to Tuscany on two separate trips in the last three weeks alone. To my friends back in Canada reading this in a place where there is still frost (or even snow) on the ground in the morning, I apologise.
***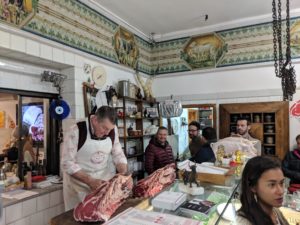 The first trip to Tuscany was brief. On a whim, I found myself in the tiny town of Panzano in Chianti. Since reading Bill Buford's excellent memoir Heat a while back I've wanted to go to Panzano for the sole purpose of witnessing Dario Cecchini, the famous 'Butcher of Panzano,' in action. Buford describes Dario as a larger than life character: endlessly quoting passages from that most famous of Tuscans, Dante Alighieri, and regularly consuming such vast quantities of Chianti without any visible effect that onlookers would wonder if he was simply drinking grape juice. A visit to Dario's butcher shop is thus more an experience of a wine- and meat-induced fugue state than it is of shopping for dinner. Before you even have time to cross the threshold of the shop, one of his employees thrusts a glass of wine into your hand while another plies you with slices of Tuscan bread hidden under heaps of heavenly rich lardo. Seemingly every two minutes, and completely unprovoked, Dario quotes Dante in his deep, booming voice standing tall on the platform behind the meat counter. The butcher shop is open every day of the year except for Christmas, and how Dario and his employees can keep this atmosphere of celebration and excess going 364 days a year is hard to comprehend.
When you're the most famous butcher in Italy and have been featured in shows like Chef's Table on Netflix and Anthony Bourdain's No Reservations, it's safe to say you are going to attract a crowd. This crowd of people who, like me, made the trip to this town with the sole purpose of seeing the infamous Dario Cecchini made me slightly trepidatious before arriving in Panzano. Dario is not just a great drinker of wine but a genuinely world-class butcher; he is a figurehead of the "nose-to-tail" movement in cooking and one of the sole reasons that Tuscan meat traditions have survived to this day. I worried that the swarms of tourists and the endless media coverage following him wherever he goes would obscure the work of this master craftsman.
Sure enough, as soon as the bus dropped me off, I knew where the butcher shop was – not because I could see its sign or Dario himself, but because there was only one shop in town so full of people that they were pouring out onto the sidewalk. I decided it best to drop my bag off at the B&B where I was staying that night before returning to the Antica macelleria Cecchini. Was I ever glad that I did. Awaiting me in the kitchen was an example of old-school butchery far more raw and authentic than I ever could have hoped to find in Dario's shop. Lucia, the woman who helps the B&B's owners with cooking and cleaning, was in the process of breaking down a whole baby goat on the kitchen counter. She had a small wooden cutting-board on which only about half of the goat fit and a very dull meat cleaver that she wielded like an ax. The equipment was of poor quality and there was blood sprayed over most of the kitchen, but it was evident that Lucia had done this many times and she tackled the baby goat with impressive efficiency.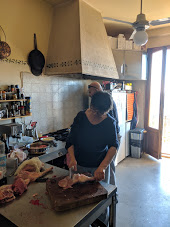 We chatted as I watched the butchering process unfold, and she explained to me how she would prepare each part of the animal (every last bit would be eaten, even the brain). I asked Lucia if she was born in the area, but it turned out she is an Albanian immigrant who moved to Italy during the height of the Kosovo War. Immigrants from Albania are crucial to Italy's labour force (I'd already met many Albanian cooks in my limited time in Milan restaurants) and it was interesting to find that reality extended beyond large cities into the picturesque hills of Tuscany's wine region. There I was, a foreign tourist in Panzano, enticed by the tales of Tuscan hospitality and an authentic dinner prepared by the world's most famous butcher, witnessing a scene more "authentic" to 21st century Italy than any recommendation one could possibly find in a guidebook. In that short time I spent watching Lucia butcher and prepare the baby goat I learned more about nose-to-tail cooking than I could have hoped to learn even from Dario Cecchini, one of its most outspoken proponents. If I'd stopped at the macelleria and arrived just twenty minutes later, I would have missed it all.
***
Despite being more impressed by what I witnessed in the kitchen of an Albanian immigrant woman than in the famous Butcher of Panzano's macelleria, I still had a very memorable night in town eating dinner at the Officina della bistecca, Dario's quasi-restaurant (only meat is served) that he built adjacent to his butcher shop. There are only communal tables and I was sat with a lovely Italian-Spanish couple; we spent the time discussing food and travel while devouring six courses of beef tartars and steaks, sharing the better part of the 2L wine jug at the centre of our table. There is an atmosphere of carnal excess as everyone around you gorges themselves on steaks still dripping with blood and guzzles glass after glass of cheap Chianti table wine. It was clear that many of the people around me had made the trip simply for the promise of a party with a 'famous' person, but even that knowledge couldn't dampen the fun I was having. The experience of Dario, his food, and his wine feels like getting swept up in a wave of celebration. All you have to do is hang on and enjoy the ride.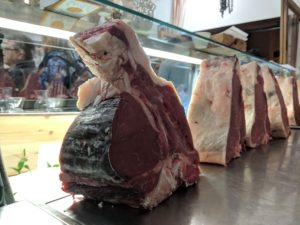 The next morning as I left to catch the bus back to Florence, I passed the open door of Dario's shop and went in to thank him for his hospitality and inspiration. The macelleria had just opened and no one else was around, so we chatted for a bit: he told me that Joe Beef is his favourite Canadian restaurant (no surprise there), and that he would be heading to Vancouver for a "meat festival" in April. I wished him well and said goodbye, but before I could make it to the door he stopped me and handed me a wrapped jar of his special Profumo di Chianti, a steak salt flavoured with Tuscan herbs. "Next time you're in Panzano," he told me in Italian, "come stay with me. We have a spare bedroom." I couldn't tell how genuine this offer was and, looking back, I can't help but assume he gives many of these salt jars away to friendly visitors. Yet, whether he was just being friendly or truly wants me to come back and stay with him, the way he is able to make every last visitor to his shop feel welcome and special is remarkable. That commitment to humanity, more than his skills with a knife or his espousal of nose-to-tail cooking, is what makes Dario unique.
***
After my memorable experience in Florence and Panzano, I was back in Milan for only 24 hours before turning around and heading right back to Tuscany. This time, I had arranged a learning opportunity with a natural wine producer in the hills around Lucca. I don't even remember precisely how the chance came about, but I came across Manuel online and sent him an email asking if I could come work with him to learn about natural wine. Just a few days later I found myself waiting in the dark at a tiny train station outside of Pisa, hoping that the man I'd only talked to briefly over Whatsapp would be showing up sooner rather than later.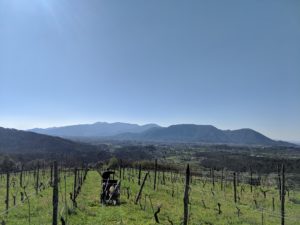 By the next day it was already clear to me that I had stumbled into an unforgettable opportunity. Manuel and his girlfriend, Maria Chiara, were so welcoming and I quickly made friends with his adorable dog, Bricco. Manuel and I would get up at 7am every morning, have a quick espresso, and head off to his vineyard that sat on a hill overlooking a stunning expanse of Tuscan countryside. We would work in the vineyard all morning, alongside a young employee named Andrea. The work itself was simple and repetitive – re-fastening vines to guide wires, for example – but in the warm Tuscan sun and the stillness that surrounded the remote vineyard I found myself falling into an almost meditative rhythm.
At midday we would drive to a nearby town and have lunch in the local trattoria. The 10 euro meals of an antipasto, primo, secondo, and contorno, along with wine and an espresso, were some of the best I've had since arriving in Italy: simple and fresh, perfect Italian country cooking. By the afternoon, a wonderful feeling of contentment would settle over everything I did, no matter how tiring the work. The serene feeling of a hard day's work in my legs and a full day of sun on my face as we made the half-hour drive back to Manuel's house is unforgettable. Remember what I said about Tuscany stealing my heart?
I learned so much from Manuel on tours of his production cellar and over the course of wine tastings with his friends, many of whom are other small-scale producers in the area. When I eventually left to return to Milan, I was sent with a case of Manuel's best wines to take to a natural wine bar in the city where I know the employees well. We did the tasting a few evenings ago and they were all impressed by the quality of his wine. Now I'm just waiting to hear back if they're interested in stocking his wine at the bar. It would be pretty cool to have brokered my first deal in the wine industry.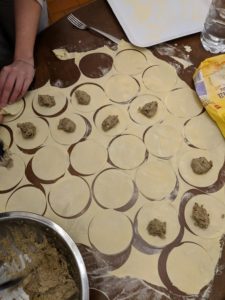 The most memorable part of my time spent with Manuel and Maria Chiara, though, were the meals we shared with their family and friends. On several occasions, friends came over for dinners that lasted long into the night and it was amazing to realise I'm now able to easily take part in Italian dinner table conversation, no matter how animated or fast-talking the conversation. Sitting around the table at midnight, four hours after the dinner started, with the wine and conversation still flowing, I was able to reflect on how comfortable I've already become in Italy in the space of only two months. The best of these dinners was when we made ravioli stuffed with ricotta and wild asparagus and fennel that we had foraged that afternoon.
Even more memorable than these late-night meals was the Sunday lunch we ate at Maria Chiara's parents' house. I was greeted at the front gate like a member of the family and was led around the side of the house to the parents' backyard where they had an open-air kitchen, dining room table, and a wood-fired pizza oven. We sat there in short-sleeves soaking up the sun and the next two hours were a blur of food, drink, and more food. I ate pasta with the most flavourful pesto I'd ever tasted, baccalà cooked in a heavenly tomato sauce with parsley and olive oil, and an oxtail stew that was braised so perfectly you didn't even have to chew the meat as it melted on your tongue. The oxtail is Maria Chiara's mum's specialty and she had made it that morning at the last minute when she heard I was coming. Lunch finished with schiacciata di Pasqua, a typical Tuscan cake spiced with anise and eaten at Easter, and seven different bottles of dessert wine and liqueur were brought to the table. As Manuel's friend Andrea had told me at one of the dinners a few nights before, "in Italia…si beve" – in Italy, one drinks. I don't even enjoy sweet liqueurs like grappa, limoncello, or nocino, but it seems every Italian family has their own version, produced by an uncle in Puglia or a cousin in Campania. Naturally, then, I couldn't refuse a sample of each as they were offered to me one by one.
As a guest in someone's home, I often feel slightly awkward when a host puts in so much effort just to feed me, but there is something different when one is being hosted by an Italian. Such excessive preparation and abundance of food is simply how it works here, and I find I have no trouble giving into the host's hospitality. When I am asked, for example, to take the rest of the schiacciata home it is not out of a Canadian-style politeness; rather, this caring Italian mother who only met me two hours before genuinely wants nothing more than for me to take the leftovers home. I was happy to oblige.
***
Leaving behind this surreal Sunday lunch and my time with Manuel wasn't easy. After just a week, Manuel and Maria Chiara already felt like friends for life and I wish I could have remained there for months. Moreover, the total immersion in Italian food culture that I experienced with them seemed like it would be hard to come by again soon. Yet, before I even made it back to Milan that evening, I was reminded just how obsessed this country is with food and just how easy it is to talk with and learn from others when it comes to cooking and eating. Of the two hours spent driving in a rideshare from Pisa to Milan, one full hour of conversation (and I'm not exaggerating) was spent discussing food. The other three passengers – Italians from Brescia, Florence, and Bari – recounted their mothers' specialties, the desserts unique to where they grew up, the first thing they eat when they return to visit their families, why one must never put onion in pasta all'Amatriciana, and countless other food-related memories and debates. It was like listening in to the personal histories of food obsessives, yet these were not chefs or food writers, they were simply Italians. None of this conversation was prompted by my questions, nor by them hearing that I had come to Italy to learn about food. I was barely part of the conversation, I just sat there and listened as a pilot, construction worker, and office administrator talked about food with the familiarity and passion of a three Michelin star chef.
Later that night I was reminded yet again why Italy was the perfect place for me as someone so interested in food. As I waited for the metro home there was no one else around except for a small group of teenagers further down the platform. It seemed like the stereotypical teenage hangout with cigarettes and beer and plenty of cursing. I paid them little attention but my ears perked up when I heard the word cipolla (onion) repeated over and over. I moved closer and realised that one member of the group was listing ingredients in a recipe, and he went on to describe the importance of whisking the eggs slowly into the mixture of other ingredients. The noise of the metro arriving drowned out the rest of the conversation before I could figure out what the recipe was for, but I couldn't help but smile the rest of the way home. Imagine Canadian teenagers hanging out at a bus or metro station and discussing the merits of a particular recipe. There is only ever one thing on an Italian's mind, it seems, and that thing is food.